Sinhala Ravaya General Secretary Magalkande Sudaththa Thera said today stern action should be taken to arrest Muslim minsters who supported Muslim extremism before Bodu Bala Sena (BBS) General Secretary Gnanasara Thera was arrested.
Sudaththa Thera told a news conference that Muslim political factions were trying to label Gnanasara Thera as another Prabhakaran who was igniting racism and causing harm to the Muslim community.
"According to them Gnanasara Thera is the worst criminal in the country and the one who is destroying the archaeological sites in the country, the one who has destroyed forest reservations and the one who bring drugs into the country," the Thera said.
He said Gnanasara Thera raised his voice against the destruction of the Sinhala Buddhist archaeological sites and the clearing of forest reserves in the country.
"He has done nothing bad to the country," the Thera said.
Sudaththa Thera said several attempts had been made by several extremists groups to assassinate Gnanasara Thera and contracts had been offered to these groups.
"Today, a warrant had been issued to arrest Gnanasara Thera. However, there is no one in charge of issuing the warrant. No police department had been informed to arrest him, the minister who is in charge of the police department or the Justice and Buddha Sasana Minister does not know about the arrest. Therefore, it's reasonable to believe that there is an attempt to abduct Gnanasara Thera and assassinate him," Sudantta Thera said.
He said the BBS was not responsible for the attacks on Muslim religious centers and that there should be credible inquiries regarding these attacks.
"We also condemn these attacks. Investigations should be made to arrest Muslims who attacked their mosques," he said.
The Thera said, Northern Province Chief Minister C.V. Wigneswaran should be arrested first followed by Northern Provincial Councillor M.K. Sivajilingam.
He said Mr. Sivajilingam has allegedly said that even President Maithripala Sirisena could be arrested if he comes to Jaffna and make statements which ignite racism.
"Then State Minister of Child Affairs, Vijayakala Maheswaran should be arrested. Later, Trade and Investment Minister Rishard Bathiudeen, National Unity Front Leader Azath Sally should also be arrested for issuing statements igniting racism, Gnanasara Thera could be the last one to be arrested," the Thera said. "Now the Muslim extremists claim that they are having a problem of having archaeological sites in their living areas such as in Eastern Province. However, the Archaeological Department Director had been removed to ease their work," the Thera said. (Chaturanga Pradeep)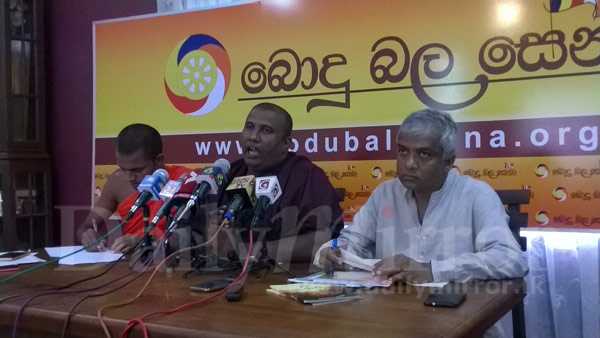 Pic by Kushan Pathiraja