Central Bank Governor Dr. Indrajit Coomaraswamy with  CT CLSA Securities Chairman Cecilia Muttukumaru (right) and Consultant Marianne Page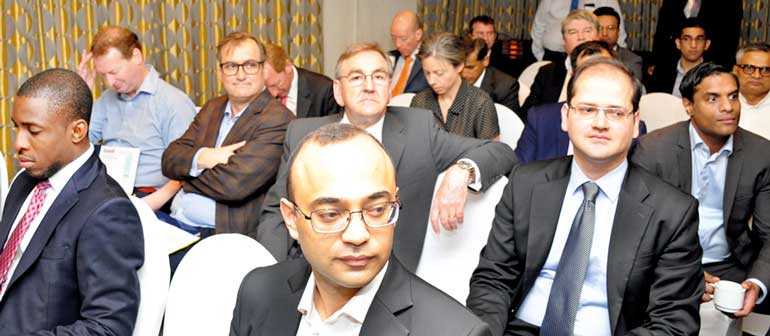 Foreign institutional investors at the CT CSLA Asia Frontier Forum in Colombo  -Pix by Lasantha Kumara
Says post-stabilisation phase new framework for strengthening economy in motion
Insists economy has potential to grow by over 5%
Tells CT CLSA Asia Frontier Forum opportunity to leverage trade-investment nexus using strategic geographic location; expanded preferential market access to India, China and EU is a major game changer for Sri Lanka
By Nisthar Cassim
Central Bank Governor Dr. Indrajit Coomaraswamy yesterday invited foreign equity investors to focus on Sri Lanka as prospects look better, with a framework for strengthening the economy in motion following stabilisation measures undertaken.
Speaking to a group of over 60 foreign institutional investors (FIIs) brought together to Colombo by leading stock broking firm CT CLSA, the Central Bank Chief said the stabilisation program was progressing satisfactorily, with the Government putting in place a sound framework to strengthen the economy. 
Though noting that last year's disappointing 3.1% economic growth was due to adverse weather conditions and slower pace of reforms, the Governor emphasised that the economy has the potential to grow by over 5%. 
In his presentation to representatives from 25 FIIs from Europe, Asia, Middle East and Africa along with CT CLSA partners in Pakistan, Bangladesh and Vietnam, Dr. Coomaraswamy detailed efforts made and successes in achieving macroeconomic stability, as well as the Government's measures to better manage the fiscal deficit and other challenges, including moves to institutionalise recent achievements to ensure sustainability. 
The FIIs present in Colombo represent some of the largest and longstanding investors in Sri Lankan equities, as well as those who made significant contribution towards foreign inflows in to Sri Lankan equities in the last 18 months.
According to Dr. Coomaraswamy, factors influencing a higher economic growth this year and beyond include favourable weather conditions leading to a turnaround in agriculture sector, expansion in trade policy helping greater exports, as well as envisaged higher private sector investments, both local and foreign. The enhanced revenue-driven fiscal consolidation policy, as well as better management of external debt and public sector reforms, are supporting the growth momentum as well among other factors. 
The investors were also updated on the various reforms on-going and those planned, covering the Monetary Law as well as the public sector and ease of doing business. He said some of the reforms are with the support of the IMF, with whom the Government has an Extended Fund Facility program.
"For the first time since 1955, Sri Lanka achieved a primary surplus last year and a surplus in the current account of Budget since 1987," Dr. Coomaraswamy said. He also said that inflation has been contained and the exchange rate stabilised, whilst gross foreign reserves have increased to over $ 9 billion. 
"We are cautiously satisfied on the external situation and there is a reassuring upside narrative on the macro picture," Dr. Coomaraswamy emphasised.
He said the planned Economic and Technology Cooperation Agreement with India and Free Trade Agreement with China, along with the existing GSP-plus scheme with Europe, will uniquely position Sri Lanka as by far the only country to have preferential market access to such large economies. 
"The opportunity to leverage the trade-investment nexus, using the strategic geographic location and expanded preferential market access to India, China and EU is a major game changer for Sri Lanka," the CB Chief pointed out. "Sri Lanka is well placed to leverage its location midst of current geo-political dynamism of the Indian Ocean," he added.
Dr. Coomaraswamy also outlined the major development programs of the Government, including the Megapolis project inclusive of the Chinese-led Port City, as well as the Hambantota Port and industrial zone development, planned efforts to revitalise the Trincomalee port and the surroundings by India, Japan and Singapore and the new Master Plan for Kandy by Japan.  
He also cautioned the investor group not to be swayed by "noisy and untidy" politics in Sri Lanka, as its benefits include 70 years of unbroken democracy and social development. 
The participants of the two-day CT CLSA Asia Frontier Forum will have nearly 100 one-on-one meetings and over 375 group meetings with top tier Sri Lankan companies and a few other South Asian entities. 
In addition, the main track will have keynote presentations and panel discussions featuring politicians, central bankers, regulators, government officials, multilateral lenders, market participants, private equity and private sector personalities from the four countries. 
The Forum by CT CLSA is organised in collaboration with Alfalah Securities, Pakistan; Everest Partners Ltd., Bangladesh; Asian Tiger Capital Partners, Bangladesh; and Ho Chi Minh Securities Corporation (HSC), Vietnam. It is the third consecutive year that CT CLSA Securities has taken the lead to host a regional frontier markets forum in Sri Lanka.
In a statement, CLSA Group Secretary and CT CLSA Director Donald Skinner said: "We are extremely pleased that CT CLSA has taken the lead for the third consecutive year to host the very successful, regional, Frontier Forum in Sri Lanka. Their ability to deliver a well-attended event while working with multiple regional partners is testimony to their strong network of foreign institutional investors and on the ground team."
CT CLSA Securities Chairman Cecilia Muttukumaru said: "We are keen to promote Sri Lanka as an attractive investment destination, and also support the governments' vision as a financial hub to access regional markets. We are encouraged by the response from our clients and also the corporates from Bangladesh, Pakistan and Vietnam in coming to Sri Lanka for our forum."
CT CLSA Securities is a fully-owned subsidiary of CT CLSA Holdings, a joint venture between Sri Lankan conglomerate CT Holdings group and Hong Kong headquartered CLSA. 
CT CLSA Securities, which celebrated its 25th anniversary in 2017, is a leading stockbroker in Sri Lanka and a Member of the Colombo Stock Exchange (CSE). CT CLSA has been ranked No. 1 for total market turnover on the CSE for 16 years, including six consecutive years since 2012. A pioneer in organising corporate access for FIIs, its highly-successful annual Sri Lanka Investor Forum was held continuously since 2010. 
CLSA is Asia's leading capital markets and investment group and the international platform of China's largest investment bank CITIC Securities. CT CLSA Holdings is also engaged in investment banking and asset management via fully owned subsidiaries CT CLSA Capital and Comtrust Asset Management.