Move aimed at preventing smuggling, avert foreign exchange flowing out 

First three months gold imports recorded unprecedented increase of 8,000 kgs worth over $55 m

Last year imports were 15,757 kilograms up 72% from 2016; in value terms imports were $650m, up by 74%

Suspects traders taking advantage of favourable price arbitrage with India

Customs data reveals Rs. 289 m worth gold smuggled out through main airport in 65 detected cases in 2017

Last week Customs confiscated 24.2 kg of gold attempted to be smuggled from Northern Province in fishing boats
By Charumini de Silva
The Government yesterday slapped an levy of 15% on gold imports effective midnight yesterday, to curb overseas purchases by traders looking to take advantage of a favourable price arbitrage with top consumer India.
"There is an unprecedented increase in gold imports to Sri Lanka and the Central Bank has noticed this trend. The Government is now suspecting that this could be a movement of smuggling," Finance Ministry Director Information M. Ali Hassen told Daily FT.
According to him, during the first three months of 2018 Sri Lanka imported 8,000 kilograms of gold worth over $ 55 million. Last year Sri Lanka imported 15, 757 kilograms of gold, up 72% from 2016. In value terms imports were $ 650 m, up by 74%.
Even though there is a significant increase of gold imports to the country, Hassen noted that there were no records that this precious metal was used for manufacturing jewellery or exporting with a value addition.
"In Sri Lanka only license holders can import gold to the country. They bring in gold mainly for manufacturing purposes and to re-export, but there is no noteworthy progress in both these sectors. 
The Government is suspecting that the traders are perhaps smuggling gold to India as it is quite expensive there," he added.
Customs data showed Rs. 289 million ($1.85 million) worth gold was smuggled out through the main airport in 65 detected cases in 2017.
Sri Lanka Customs Department recently nabbed a number of people suspected of smuggling gold out of the country at the airport and in the latest incident they found people trying to smuggle gold worth Rs. 170 million. Last week Customs confiscated 24.2 kg of gold that was attempted to be smuggled from the Northern Province in fishing boats.
"We have seen some traders using the situation as an arbitrage with India having a tax. The decision was a move to prevent gold smuggling as well as to avert a significant amount of foreign exchange flowing out of the economy," he stressed.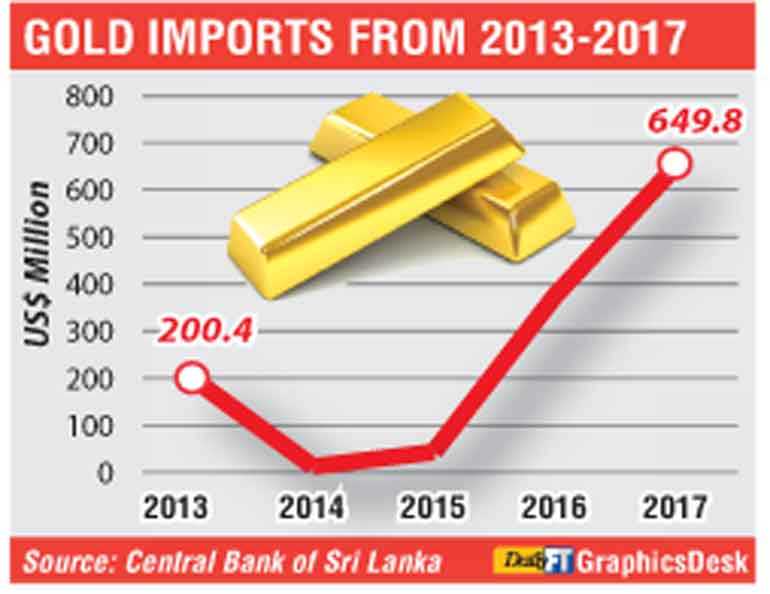 Sri Lanka imports gold from Middle Eastern countries, South Africa, Singapore and European countries.
"This is a sensible and timely move to prevent any balance of payment and exchange rate crisis," a currency dealer said on condition of anonymity. "If imports increase, there will be a depletion in foreign currency reserves, thus pressurising the exchange rate."
Reuters reported unnamed industry officials as saying the move would deter the export of the country's popular and rare gems, diamonds and jewellery, which accounted for $ 257.2 million in 2017.
Industry officials, however, said the move would adversely impact exports of the gem and jewellery sector.
"We won't be able to compete in the international market and our competitiveness will be low with this tax," an official at the Sri Lanka Gem and Jewellery Association told Reuters.
"It will in fact result in more gold smuggling into the country. The Government should also consider this."