Hemas Holdings PLC, Hemas Pharmaceuticals and Hemas Mandalar Pharmaceuticals Ltd Senior management members together with Sri Lankan Ambassador to Mynmar K.W.N.D. Karunaratne at the launch celebrations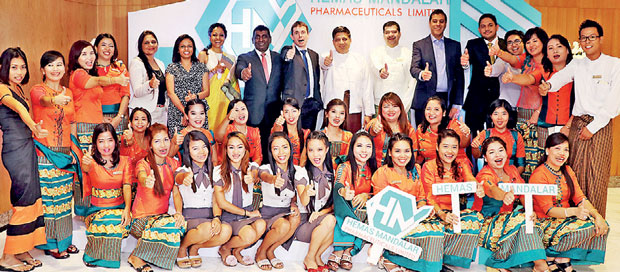 Leading pharmaceutical importer and distributor in Sri Lanka, Hemas Pharmaceuticals has ventured into regional shores for the first time with its entry into Myanmar to commence distribution operations as Hemas Mandalar Pharmaceuticals Ltd.  
The official launch celebrations took place in the presence of Sri Lankan Ambassador to Mynmar K.W.N.D. Karunaratne, senior management members of Hemas and other dignitaries from both Myanmar and Sri Lanka. 
Hemas Mandalar Pharmaceuticals Ltd, in partnership with Family Mandalar Company, would serve as the main distribution point for multinational and other pharmaceutical manufacturers that would enable the supply of quality pharmaceutical products across Myanmar. 
Ashwani Bagga, a veteran in the pharmaceutical industry with over 25 years of cross cultural exposure, will be leading operations in the capacity of Chief Executive Officer for the organisation. 
Commenting on the strategic move, Hemas Holdings PLC Group Chief Executive Officer Steven Enderby said, "Myanmar has been a core part of Hemas Pharmaceutical's vision to expand regionally, a venture that we have been actively and energetically pursuing over the last three years. 
It was therefore important to us to partner with a well-established and reputed organisation such as the Family Mandalar Company with values that are aligned with ours to take on the challenging task of expanding our distribution operations beyond our own borders. We remain optimistic about this venture and look forward to Enriching Lives in the Hemas way through our presence in Myanmar."
Hemas Pharmaceuticals Managing Director Kasturi Wilson said, "It is truly a monumental moment for Hemas Pharmaceuticals as we establish our first-ever distribution operations on foreign shores as Hemas Mandalar Pharmaceuticals Ltd in Myanmar. 
As a result of this endeavour, we are able to take our expertise, our best-in-class processes and infrastructure outside of Sri Lanka to add value to other markets. This move marks the first of many in line with our strategy to expand and we are excited to see the progress over the next few months." 
Hemas Mandalar Pharmaceuticals Ltd will engage its core strengths of an extensive distribution network, well trained and highly experienced sales team and the usage of real-time sales data to ensure a smooth and efficient flow of operations in Myanmar.
The process is further reinforced by its state-of-the-art warehouse facility that is temperature controlled around the clock and is in full compliance with regulatory standards. 
Bagga said, "Sri Lanka and Myanmar have always had a special connection with one another as a result of similar culture and value systems. As such, Myanmar was an immediate selection for the next phase of expansion for Hemas Pharmaceuticals. 
Through Hemas Mandalar Pharmaceuticals, we will focus on adding value to the nation's healthcare industry by exploring means of introducing new healthcare solutions to the people of Myanmar. In the process, I am also proud to note that we have been able to create over 100 new job opportunities thus far in Myanmar and we intend to create many more job opportunities in the future as well.