Commuters board a train at a railway station in Colombo on May 5, 2017, as several engine drivers staged a token strike in support of a trade union action of government doctors – AFP
Over 50% of teachers in the state school system did not report to work yesterday despite threats, the Ceylon Teachers' Union (CTU) said. The union took part in the Government Medical Officers' Association (GMOA) led trade union action against the South Asia Institute of Technology and Medicine (SIATM) for the first time.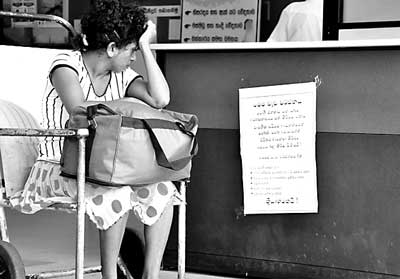 "There were incidents reported where individuals in civvies had come and threatened teachers and principals in different areas on Thursday evening to ensure that they report to work on Friday. Despite that we have been able to engage in our trade union action," CTU General Secretary Joseph Stalin told Daily FT. 
The trade union action launched by them against SAITM was a success, Stalin claimed, highlighting that this was the first time teachers engaged in trade union action against the Government's stance on SAITM. "Many teachers have applied sick leave today following the short-notice we made."  The strike action was to also protect free education and demand pension for government servants.  "This was a strike lead by the GMOA. The Government has now seen the strength of the strike action launched today. They should pay attention and take the demands into consideration. If we don't get favourable responses, we will continue the action further," Stalin said. According to Stalin, 13 trade unions in the education field joined the strike yesterday. 
However, the Education Ministry claimed that there was no effect on the teachers' attendance at schools today though several teachers' unions had claimed that they were on sick leave yesterday.
---
All train drivers employed on a contract basis who did not report to work yesterday will have their contracts terminated. 
The Department of Railways said that railway guards employed on contract basis will also suffer the same fate.
The Department of Railways has decided to consider train drivers and railway guards employed on contract basis who did not report to work today as having vacated their posts.
The move follows a protest staged by railway unions yesterday.